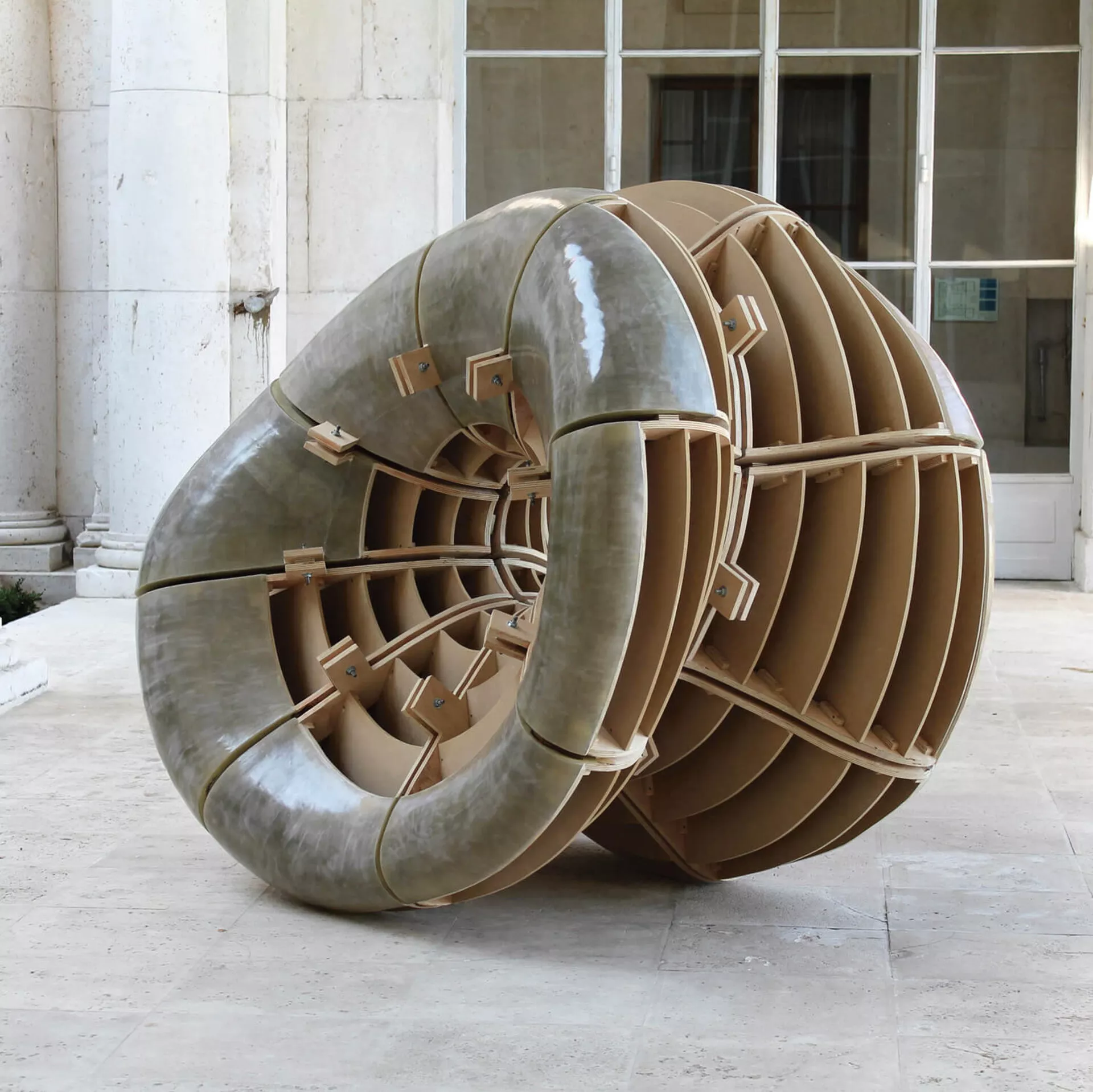 Societe Generale Collection : Focus on sculpture
In three dimensions
As with the rest of the Collection, coherence and diversity are the keywords of an acquisition policy that focuses on well-known and emerging artists, including French and international sculptors. For instance, the work of Chinese Wang Du stands alongside that of French Laurent Grasso, Raymond Hains's matches (Untitled) of 1971, and Julien Prévieux's Pickpocket of 2015.
The slender lines of Marta Pan's Stele 200 concord with those of François Stahly's Gewundene Säule, whilst the almost ancestral figurative dimensions of Sotor's Cheval Flèche contrasts with the very modern abstraction of Franz Pichler's sculptures. The lightness of Takis' floating ball is in counterpoint to the monumental weight of Nicolas Sanhes' work which sits at the entrance to the French Val de Fontenay site. Whether they draw inspiration from nature, like Benoît Luyckx for his organic forms, or from architecture, like Francesco Marino di Teana, the relationship between sculpture and its environment is predominant in the work of many artists.
Sculpture in the spotlight
The Collection's unique taste for sculpture will be fully illustrated at the beginning of the year. From 20 September to 30 April 2020, the exhibition "Little Stories" will evoke a thousand and one anecdotes about the works it brings together, including several sculptures, such as the mysterious Trashstones by Wilhelm Mundt or the mischievous Iron Maiden 4 by Morgane Tschiember. Finally, in celebration of the opening of the new hall of Societe Generale's headquarters in London, young sculptors from art schools were invited to present their projects before a jury of experts for possible inclusion in the space.
Of the five finalists, Fabio Dartizio, born in Italy in 1989 and living in London, was unanimously chosen as the winner. The future of sculpture in the Collection is assured !
Sculpting space
While some of the works acquired are direct purchases, others are commissions: on this occasion, a genuine dialogue is undertaken with the artist, who gives their opinion on the space where their work is proposed to be exhibited. This has been the case for Jean-Michel Othoniel's Greek Node, which has adorned the entrance hall of Basalt Tower in la Défense since 2014. Depending on the viewpoint of the visitor, the piece forms a θ, a γ, a δ or a υ, (Greek letters used in financial mathematics). 2+2=5, the bench designed for the Agora (reception hall of the Societe Generale Group headquarters) by Gottfried Honegger, raises, for him, the question of sculpture-object, both as an object of art and as a functional object. These works blur the lines between exhibition space and work space, sculpting a hybrid environment that is both surprising and familiar. The bank's employees and visitors did not hesitate to take ownership of them: Barry Flanagan's Elephant became a meeting point, and Philippe Ramette's Lévitation de chaise became an object of wonder for children.

Little Stories exhibition, until 30 April 2020.
Guided tours Monday to Friday, 9am to 6pm.
visites@collectionsocietegenerale.com