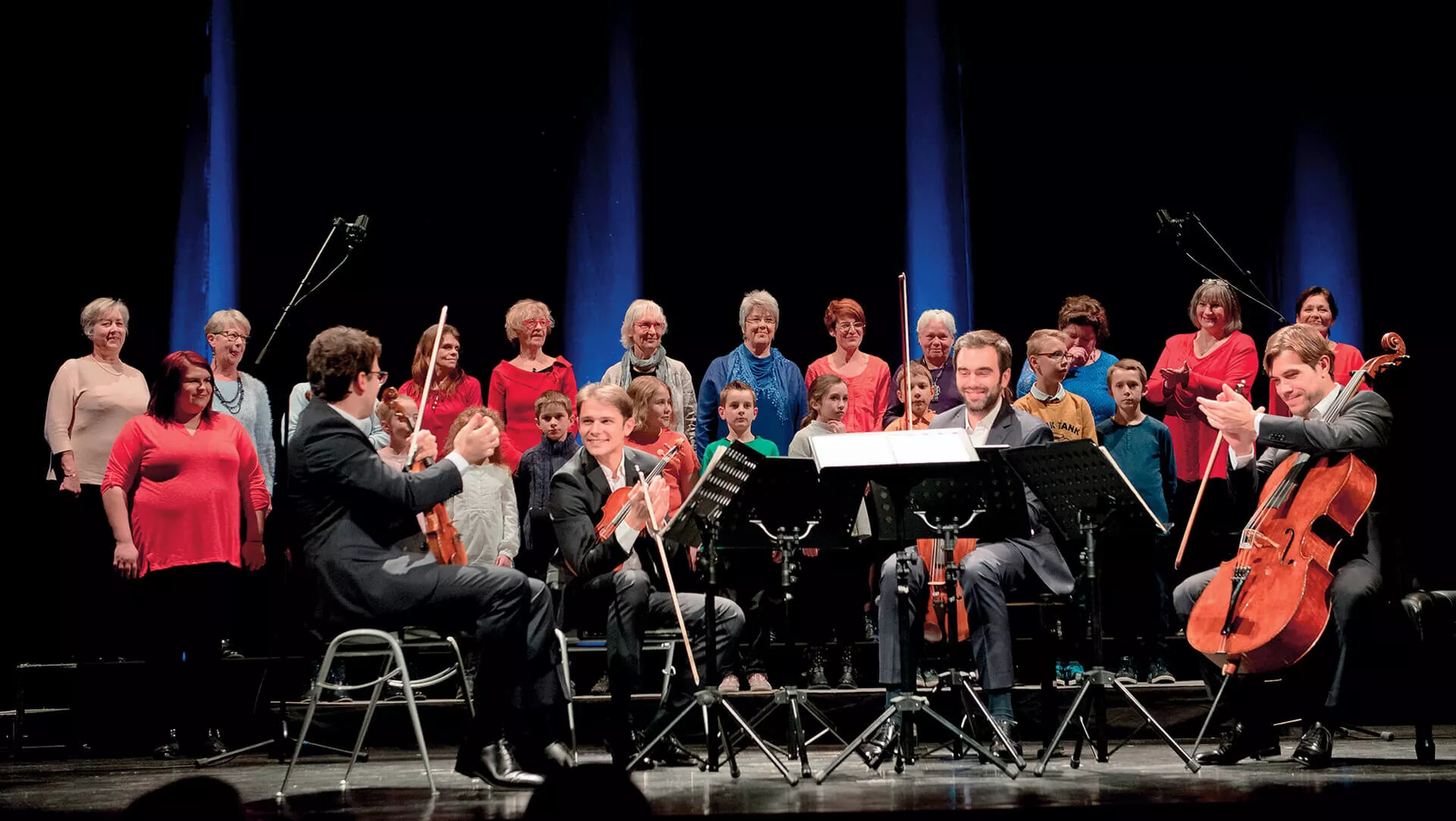 Gisèle Magnan: I always wanted to be useful
The founder and director of Les Concerts de Poche (Pocket Concerts) certainly has an infectious enthusiasm. With plenty of passion, humour and modesty too, Gisèle Magnan tells us about her career and her commitment to democratising music.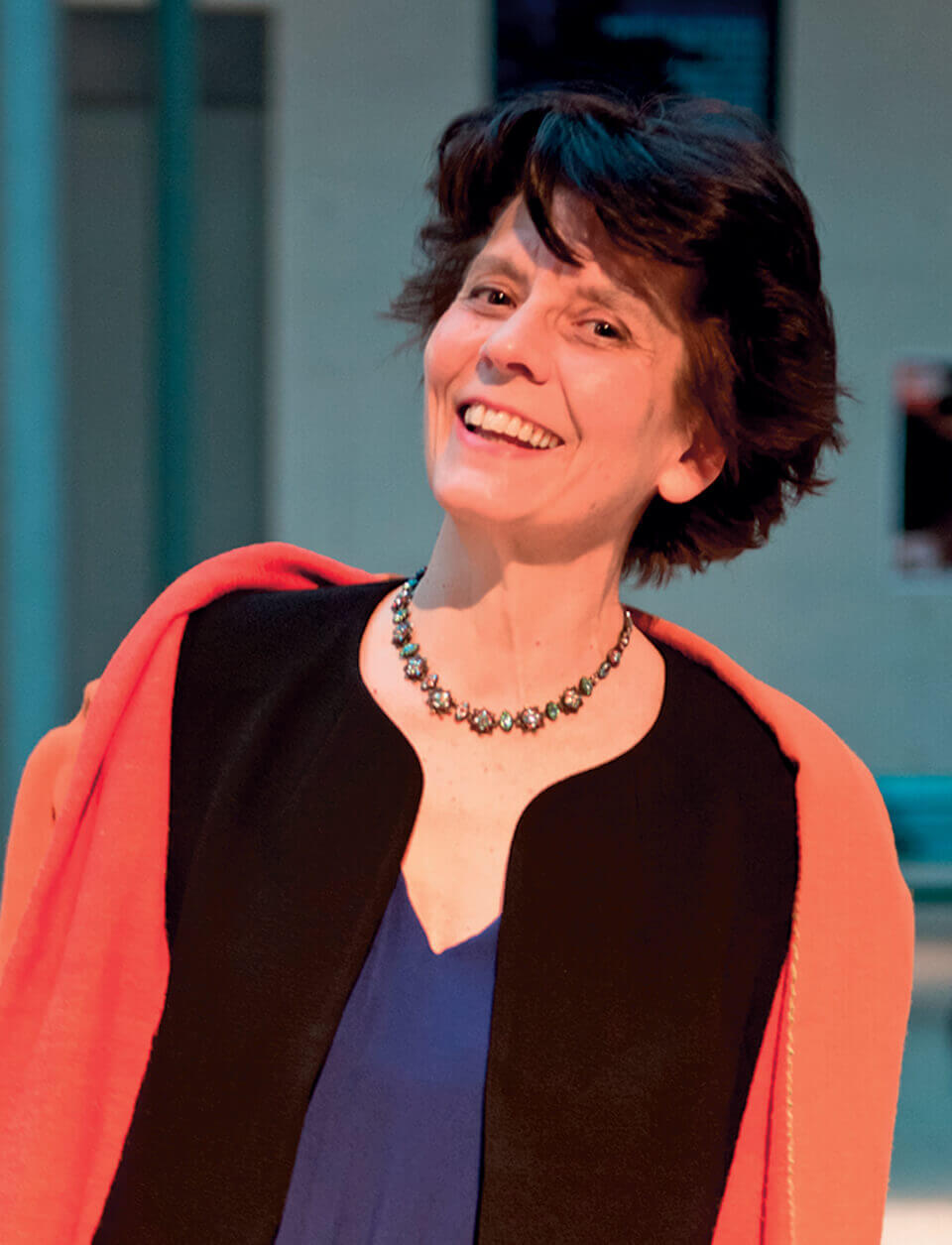 Gisèle Magnan
is a pianist, founder and director of the association Les Concerts de Poche, focused on bringing music to everyone. www.concertsdepoche.com
Gisèle Magnan was immersed in music from childhood and learned the piano at the age of 6. "I was in my element from the beginning. It immediately appealed to me, I liked the music, I liked the instrument. It was rewarding for me." Gisèle left school at 13 to enter the Paris Conservatory, distancing herself from her family environment, which was too regimented for her taste. "I was in an inner struggle between what I wanted to do and what I felt I was being predestined for. So I had to find my way in music in a manner that was practical."
She aimed to be a concert performer, although not immediately. "It was certainly rewarding, but I felt like I didn't understand the actual science of what I was doing, I didn't understand why sometimes it was great and sometimes not." She then met Jean-Rodolphe Kars, "a brilliant teacher, himself a concert pianist, who revolutionised [my] appreciation of music."
His teaching was "a mix between a science of the instrument and a consideration of the inspiration, and the actual role of the listener, how it is that we can move people and how this is constructed." But after four years, Jean-Rodolphe Kars decided to become a priest and stopped teaching virtually overnight. "I was a little annoyed with him, but I didn't tell him… I got his students back and that was great because it allowed me to continue the research that I had begun with him. And there's nothing like passing on what you know in order to help you grow yourself."
From soloist to head of ensemble
Gisèle Magnan started her profession as a concert pianist at the age of 22. The more her career unfolded, the larger were the halls, and the more, it seemed, the audience was further away, in the dark and far from the stage. And she found herself questioning this... "I did not understand why I had to play for people who paid a lot of money and yet I never met them. So a solution had to be found to get closer to the people I was playing for."
Little by little, Gisèle organised concerts coupled with workshops at venues near her home, in Seine-et-Marne. "It was a social and even a vital need. My children were teenagers and they found my usual audience too far removed from reality. I felt that the gulf was only going to widen."
The experiments multiplied across the different regions in a very organic way. Rural areas, less advantaged neighbourhoods, even every village wanted the same as its neighbour. The demand was such that she had to develop teams and improve the organisation. She decided to establish Les Concerts de Poche in 2005 and by 2008 she had abandoned her former career path entirely. "It was not an easy choice but it was also a liberation. Les Concerts de Poche gave me access to a society that I did not know: the real people of the 21st century.
"When you are a musician, you can feel you are in contact with the universal so that you begin to have the impression that you know everything, but in fact, you don't know anyone. Les Concerts de Poche transformed me and I wanted other artists to take advantage of it." Gisèle Magnan easily convinced the greatest artists to join the adventure.
Organising musical creation workshops, and even instrument making.
It's a very attentive, very grateful, very vibrant audience, and the musician is immediately touched by this.
Reclaiming the music
If the artists are flooding back, it is because they are discovering a totally new audience which includes many young people in particular. And it is an audience that has frequently come to the music via the workshops: "It's a very attentive, very grateful, very vibrant audience, and the musician is immediately touched by this", enthuses Gisèle Magnan, noting the joyful atmosphere of the small theatre created by the mime Baptiste in Children of Paradise by Marcel Carné: "Spectators are in the hen-house (or paradise), with their legs hanging down. The emotion of the experience is ten times greater because people are very close and they adore what they are seeing and listening to."
Since 2005, the association has grown considerably and now has forty employees, spread over five sites in France, and a dedicated orchestra. The first lockdown put a stop to the concerts but the association managed to maintain the link with the public,via podcasts and digital workshops. In the summer of 2020, when the theatres reopened, everyone called them up: the regions, social organisations, leisure centres and the artists.
High expectations
"It is often said that we straddle the territories of the social and the artistic. And the success we have had can certainly be called proof of concept! It was certainly very, very heartwarming." Despite the challenging summer season of 2020, the association put on "a hectic cultural summer programme with at least 50 concerts and 50 workshops", whereas it would usually be resting during this period. During the second lockdown, the association invented a new format, the "Soloists at School", and was able to keep "live" concerts in schools going.
Mediator and matchmaker
With Les Concerts de Poche, Gisèle Magnan finally discovered an answer to her youthful questioning. Today she sees herself as a mediator: "I have a link with the artists and a link with the public. It is no longer me who makes the music, but I contribute to it." Unquestionably! She even creates duets, playing matchmakers (on stage): pianist Thomas Enhco (one of her former students) with percussionist Vassilena Serafimova, and pianist Jonathan Fournel (another of her former students) with violinist Augustin Dumay. When you ask Gisèle Magnan what led her to introduce them to each other, she responds poetically: "Their hearts were beating to the same rhythm, but they just didn't know it."
Les Concerts de Poche: bringing music to everyone
No concert without a workshop, no workshop without a concert. This is the credo of the Les Concerts de Poche association, created in 2005 by Gisèle Magnan. The objective is threefold: to bring the greatest artists of classical music, jazz or opera, to rural areas and less advantaged neighbourhoods, to involve all audiences, especially young people and those who are isolated, in order to create links throughout the regions.
The association has developed many forms of workshops, of varying lengths and content (creation, singing, percussion, etc.) which are tailor-made for each region, according to the social link that they want to create. Les Concerts de Pochebring together nearly 45,000 people each year through 2,000 musical workshops and 120 concerts in 360 municipalities across 30 regional departments. The association is approved as a "social solidarity enterprise" and is recognised as being of significant public utility. In 2015, she was awarded "La France s'engage", presidential award which honours innovative initiatives in the service of society.
Mécénat Musical Société Générale is a founding patron of Les Concerts de Poche.
Les Concerts de Poche, a human & artistic adventure (French only)
You have refused the deposit of Youtube cookies on our site, so you cannot view this video. You can still authorize the deposit of cookies related to videos to access this content by clicking on this link (By authorizing Youtube Partners) :
Cookies Management
Concerts de Poche of Dourdan– Philippe Cassard & Cédric Pescia, pianos
You have refused the deposit of Youtube cookies on our site, so you cannot view this video. You can still authorize the deposit of cookies related to videos to access this content by clicking on this link (By authorizing Youtube Partners) :
Cookies Management